Community Rocks!
Where every day we pledge to be
Creative, Active, Kind, to Read-Write-Rock & Shine!
Our mission is for ALL kids (families & folks) in EVERY neighborhood to have access to MUSIC, ARTS, WELLNESS and creative opportunities to GIVE BACK.. The GOAL is for every child, and all of us, to have HEALTHY & POSITIVE OUTLETS to become our best selves and improve the world around us. We promote self-expression, exercise, cross-cultural education, volunteerism and environmental awareness at every show, class and event in which we are involved. Our PROGRAMS include year-round on-line and on-site classes, camps, service projects, performances and afterschool activities to keep our children and neighborhoods CREATIVE, ACTIVE, HEALTHY & KIND.
---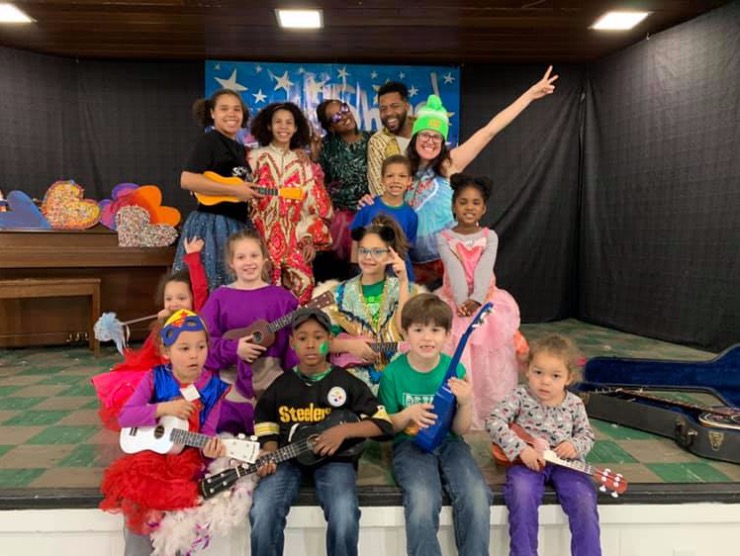 Community RockStars - our Sponsors and partners
COLLABORATING with local businesses and organizations, Community Rocks! provides safe SPACES & PLACES for kids, teens, families and folks to EXPRESS, create, PERFORM, learn, LAUGH, love, STRENGTHEN, serve and CELEBRATE community. Community Rocks! provides programs to all populations including at-risk youth, senior citizens and individuals with disabilities. We currently have programs in Camden, Collingswood, Gloucester City and Audubon, NJ. Thank you to our community partners! Virtua Foundation, Collingswood Music, Ovations Dance Studio, P.A.C.E, ACS Press, Christus Lutheran Church, Crescent Moon Wellness, Valenzano Winery, YARDS Brewing Company, Rosebud Academy and Severino Pasta
FACTS & HISTORY
Community Rocks Corp. was founded out of Studio LuLoo (est.2006-2018), a creative, healing and performing arts
space
that brought together
family and folks, young and old, to express themselves through music, art and yoga. "LuLoo" as it was called,
was a community arts
center
by day, and a music venue by night. The name was inspired by "LuLoo"
a pink-haired purple winged musical magical fairy
(and Sara O'Brien's "alter ego" born one Halloween night in Athens, GA ). I
n June 2010, Community Rocks officially became exempt and our work went "on tour" throughout neighboring cities and communities.
TIMELINE:
Studio LuLoo was established in November, 2006.

Studio LuLoo-Community Rocks hosted bands and performers from around the country and different parts of the world

The first location was 1001 White Horse Pike, Haddon Township, NJ (now the SoHa Building) (link CBS video)

In 2008 we moved across the street to 916 White Horse Pike in Oaklyn and simultaneously opened a Studio

Luloo

Kids

in

Haddonflied, just for kids.

Community Rocks Corp. officially became exempt on June 21, 2010

Studio

LuLoo, home of Community Rocks made its 4th moved

to 215 W. Clinton Avenue, Oaklyn, NJ
PROGRAMS
KIDS BAND
Creating, performing & recording inspirational and educational music written by kids, with kids and for kids to enhance literacy, improve confidence,
build self-esteem, motivate movement and empower teamwork. We Work Together, WE ROCK! is one our of hit songs!
Activities include singing, songwriting, dancing, recording and playing instruments, To date, we've recorded three full length albums:
The HoneyBabes
Please Stop Complaining
WE ROCK! Compilation CD (2011)
Let Yourself Shine!
Performances included:
Kids Open Mic Nights recording and playing instruments.
T.E.A.M
FITNESS ROCKS!
GIVE BACK ATTACK
Volunteer Opportunities
UKULELE CLUB
Recorded music written by kids, with kids, for kids!
"This is just example text. Click to edit and add your own testimonials."
- CUSTOMER NAME, CITY AND STATE
This is just example text. Click on this paragraph to edit and add your own content. This area is a great place to provide website viewers with any details on how, when or where to contact you. Be sure to include any details you want your visitors to leave in the contact form of this section.
This is just example text. Click to edit and add your own content. This section design focuses primarily on text-content, which can be used to communicate information to your website viewers. You don't need any professional writing experience to create great text-content, all you need is an idea and a keyboard.